GuestServe Gift Certificates


Welcome to our GuestServe Gift Certificates information screen. Presently, you may redeem Gift Certificates for accommodation at any participating GuestServe subscriber property. You may also redeem your Gift Certificate for Niagara Helicopters tickets or dinner at the Skylon or Casa Mia in Niagara Falls. Below, please find your options.

Gift Certificate Menu


Lookup the value and/or status of an existing GuestServe Gift Certificate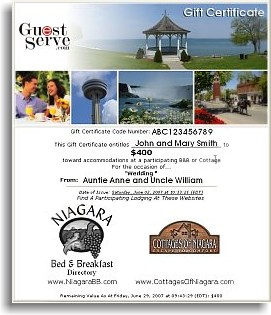 Frequently Asked Questions
What is a Guestserve Gift Certificate?

A Guestserve Gift Certificate is fantastic option to treat family, friends or that special someone to either a relaxing stay at a Bed & Breakfast or a thrilling Niagara Helicopters ride or romantic dinner at a fine dining restaurant in Niagara. You do not have to be arriving from outside of Niagara to enjoy a GuestServe Gift Certificate. Locals are welcome!



How Do I Redeem a GuestServe Gift Certificate?

There are 3 ways to redeem a certificate:

Book accommodation directly on one of our participating websites (see NiagaraBB.com and CottagesOfNiagara)
Redeem by booking directly with a B&B by email or telephone and quoting your GuestServe Gift Certificate number
For Niagara Helicopters and Dining options, please see links on our Terms and Conditions page





How do I purchase a Gift Certificate?

Gift Certificates are not available for purchase at this time. Please check back for details.



How do I check the balance of my Gift Certificate?

You are able to check the balance of your Gift Certificate from our information webpage at: http://guestserve.com/giftcertificates.html. You must accurately enter your Gift Certificate number to retrieve the status and current value of your Gift Certificate.



Do GuestServe Gift Certificates have to be used by a certain date?

GuestServe Gift Certificates have no expiration date.



What if the gift certificate gets lost, deleted or goes missing?

While gift certificates are a handy way to make purchases, it's difficult to track them if they get lost or stolen. Please be sure to print a copy of the certificate right away and treat it like cash. In the event of a Gift Certificate being lost, destroyed or missing BEFORE it has been redeemed, please contact us via email. If the Gift Certificate has not been redeemed at all, we will make every effort to cancel that Gift Certificate and reissue a replacement. Please note while we will make every effort to assist our clients some circumstances are beyond our control and could result in a total loss.



What if I Have Problems with a Gift Certificate?

In the event of a query regarding a Gift Certificate please Email Us with the following information:

Name of Purchaser
Gift Certificate Code
Name of Recipient

We'll contact you by e-mail as soon as possible after reviewing your details.