Event and Conference Operators

Since 2002, GuestServe has been a leading provider of online reservations for Events and Conferences of all sizes.




There are 2 parts to the GuestServe Online Reservations Events system. The first is an admin area where staff are able to add and edit the conference description, dates, images, availability and other pertinent reservation details such as policies and directions. This information is then displayed seamlessly on the conference or event website where potential attendees are able to select from a series of sessions and confirm their attendance at the conference with real-time credit card processing.


QuickFact: GuestServe has a proven track record dating back to 2002 in providing annual conference registration services with real-time credit card transactions for thousands of attendees of Reading For The Love Of It.
At the time of a reservation, the system takes the attendee through the booking process, selecting their conference package, displaying costs, requesting their contact and payment information and then storing that information in a secure folder in the client admin area. At this time, a message is automatically sent to the guest to confirm their reservation and a message is also sent to the conference staff to notify them of a new registration. Staff then log into a secure folder in the GuestServe system to retrieve delegate details, send packages and more.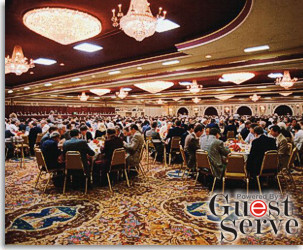 A key feature of this version of our system is that GuestServe has been developed to provide real-time credit card processing through Visa, Mastercard and American Express. At the time of the guest registration, GuestServe transmits the order details securely to VeriSign where the transaction is processed in real-time and the credit card is charged. Funds are settled to the Event Management company nightly to a bank account of their choosing. The real-time credit card processing all occurs automatically within 1 to 3 seconds once a potential attendee has submitted their request.

Since 2002, the GuestServe Online Reservations Events Version has been a key component to the success of the prestigious Reading For The Love Of IT Conference in Toronto, Ontario. The following is a testimonial from Executive Director, Mary Wilson:
Client Testimonial

We have used GuestServe Conference Version since 2002 to book our association's annual conference. Thousands of our members have selected and booked their itineraries using GuestServe. We highly recommend the service to other associations in need of a web-based reservation solution.

- Mary W., Executive Director
Reading For The Love Of It

Contact Us Today For A Price Quote