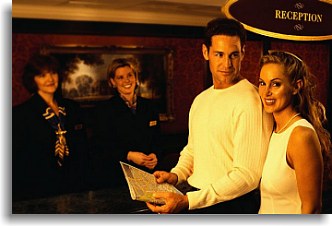 Reservation Solutions
We presently offer reservation solutions to the following tourism operators:
Customer Testimonials

GuestServe is the system of choice for all of our hotel properties and we manage some of the the biggest hotels in Niagara Falls including the exclusive Embassy Suites.
- Stefanie B. Online Marketing Manager Embassy Suites Hotel


We have used GuestServe Conference Version since 2002 to book our association's annual conference. Thousands of our members have selected and booked their itineraries using GuestServe. We highly recommend the service to other associations in need of a web-based reservation solution.
- Mary W. The Reading Association
GuestServe is EASY

Easy For Tourism Operators

No commissions, no transaction fees for all base accounts
Most accounts do not pay setup fees!
No software to install, no special computer hardware required
Manage your B&B, Inn, Hotel, Condo, Condo Association, Tours or Conference through a secure webpage from anywhere in the world
Simple to link to and from your existing website
Simple management of your lodgings, reservations, rates and more
Set up multi-property referrals to share overflow
Easy-to-use contacts database
Accept credit card details over the internet
Photographic and panoramic galleries available
Easy For Guests
Our partner associations are easily found in all major search engines
A large volume of lodgings across wide geographic areas
View full lodgings profiles with photo galleries and searchable amenities
Quick and easy 3-step reservations
Simple calendar tool
Convenient viewing of prices in multiple currencies
Book online with secure credit card information to transact or hold your reservation
Immediate dual confirmation/notification sent via email to both the guest and the host
Customized email responses may include directions, policies, your logo and more!
Easy For Associations and Destination Marketing Organizations
Easily linked from any association website for the purpose of managing memberships and providing member listings, conference booking & promotional services, reporting, banner programs, events management and more!
Works for small groups of 3 all the way up to associations with thousands of members
Book travel itineraries for seminar sessions, meals, meetings and more by combining our Events/Conference Version
If you operate a DMO or hotel or B&B association, you can offer search services across many parameters from your membership across all participating members of a group
Create new associations based on geographic proximity or some other unique unifying characteristic